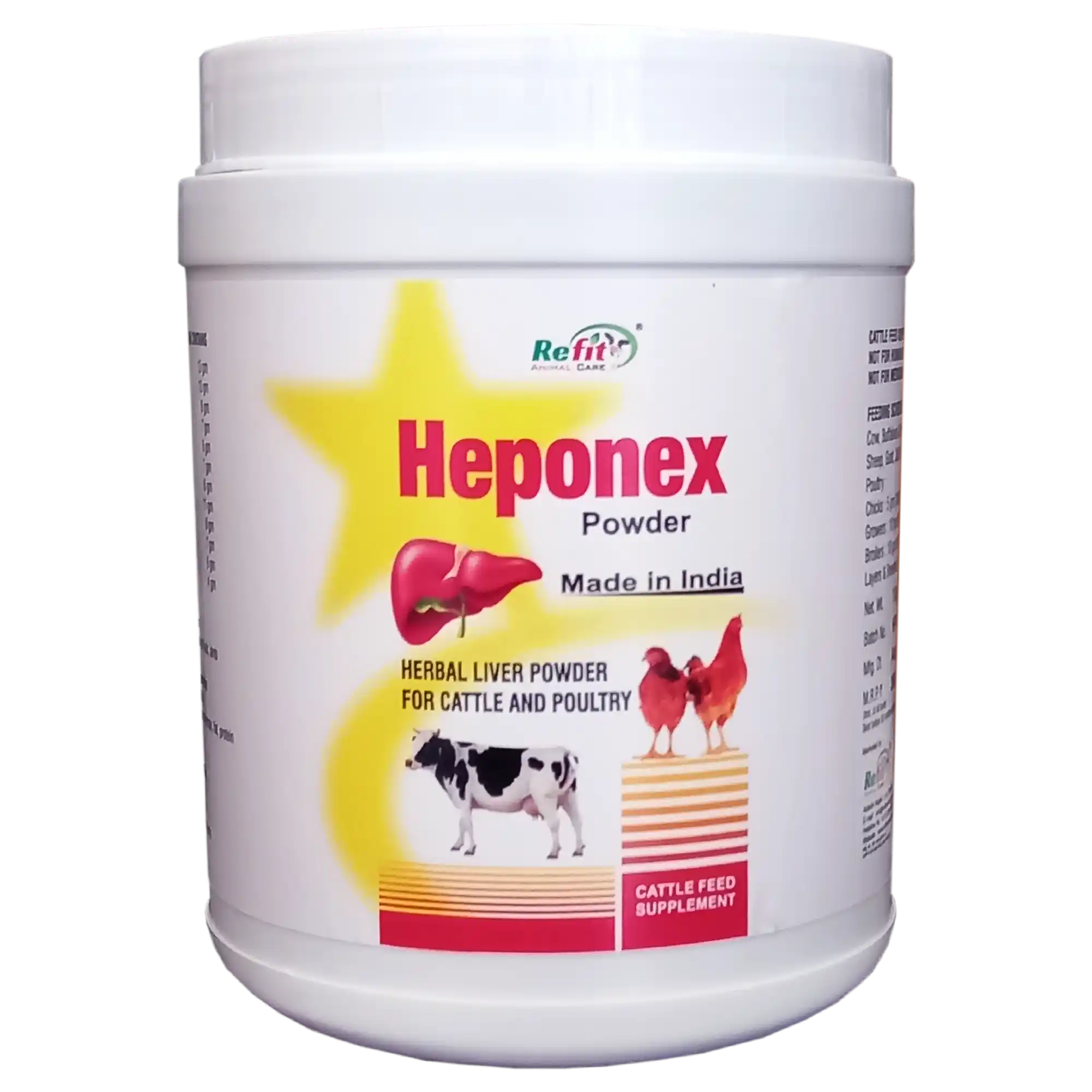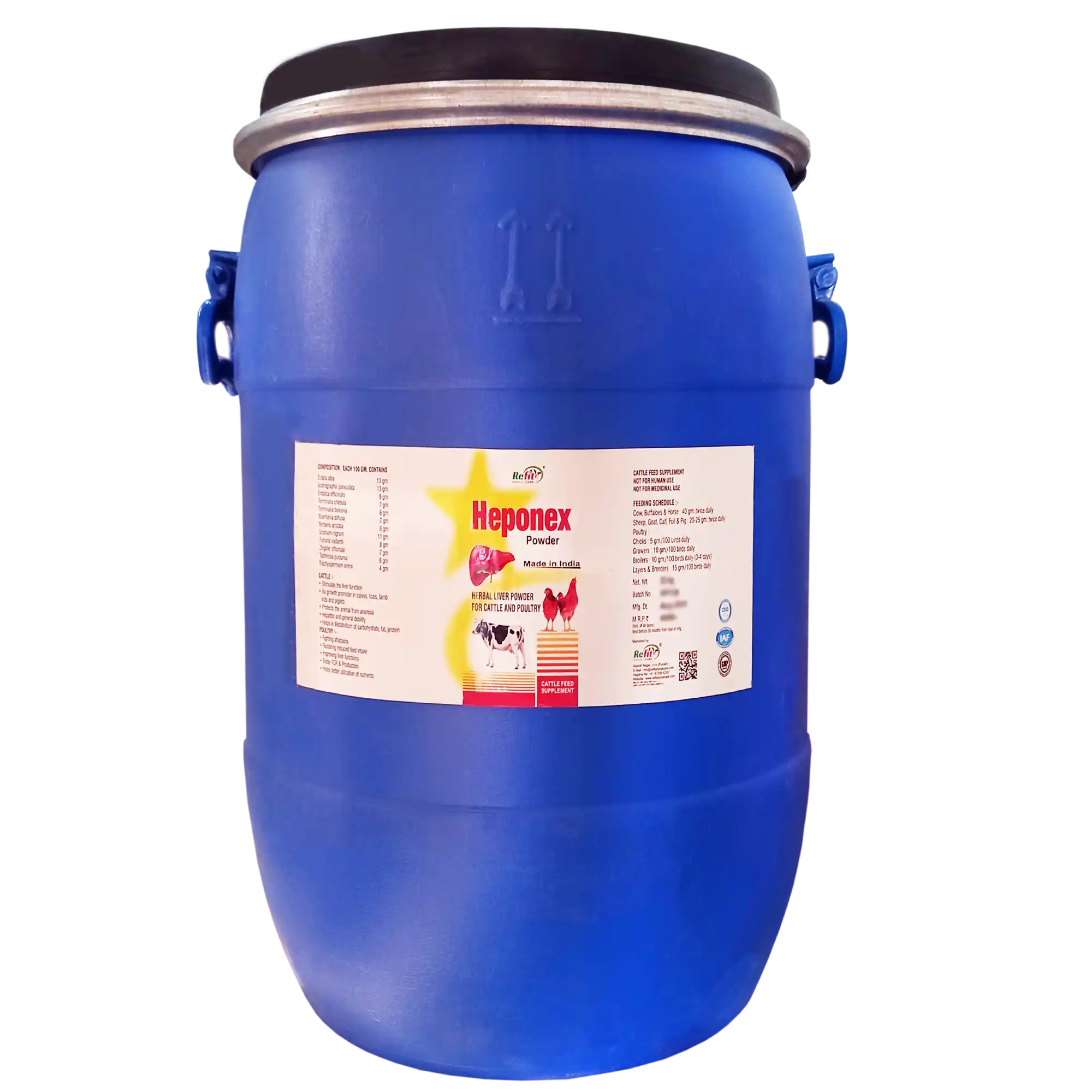 Heponex is a Cattle Liver Protective Care Powder for Cow, Poultry & Livestock that helps prevent liver problems and promote overall health.
Liver problems in cattle are not uncommon. The cause of the liver problem is mainly the paddock which may harbor some fungus during certain seasons. It is unclear why the paddock becomes poisonous because cattle are fine in the paddock, and then suddenly, their health starts deteriorating. Identifying when the liver problems start in cattle is important to ensure that the paddock stays infection-free.

Fatty liver is a common condition that supplements can easily cure. When cattle have fatty liver, they will automatically reduce feed intake. This directly affects the health of the animal. Reduced feed intake also results in decreased milk production. Hepatitis is also a disease that affects the liver. Again, the cause of liver problems is often associated with the grass that the cattle feed. Certain plants become toxic during certain times, and the reason for this is unknown.

When liver problems occur, lesions on the skin may be noticed. The animals become photosensitive. Sometimes, the lesions may occur on teats. This results in mastitis. Decreased milk production combined with mastitis surely affects the farmers greatly.

In many cases, liver problems don't become fatal with proper care from a veterinarian. However, if the care is missed, it can be fatal. Recovery from liver problems is a long road and that is why prevention is the best way to care for the livers. Decreased digestibility is one of the common problems for farmers which affects weight gain in animals.

Cattle liver protective care powder ensures liver problems don't affect the cattle

Instead of providing treatment after the liver problems are noticed, it is better to include liver protective care powder supplements to prevent liver problems. Heponex is an excellent liver-protective supplement that stimulates liver function. Farmers don't have to worry about the quality of the paddock as long as they provide liver-boosting supplements. Digestive problems are prevented with the use of appropriate supplements in cattle and poultry.

When the liver functions optimally, farmers don't have to worry about the general weakness of the animals. There will be no problem with reduced feed intake, and thus anorexia can be avoided. In poultry too, aflatoxins can be effectively overcome with Heponex. Animals that experience reduced feed intake will improve greatly when liver protective supplements are provided.

Heponex can be mixed with feed and offered to animals daily. Incorporating specific organ-boosting supplements is essential to maintain the overall health of the animals. Liver problems are not contagious, but if the problem lies with the paddock, more often, more than one animal is affected. Regularly supplementing with liver tonic powder tones the liver and encourages regular feeding.

Feeding schedule
Cattle
For cow, buffaloes, and Horse: 40gm twice daily
For sheep, goat, calf, foil, and pig: 20-25gm twice daily
Poultry
For chicks: 5gm per 100 birds daily
For growers: 10gm per 100 birds dail
For broilers: 10gm per 100 birds daily at least for 3-4 days
For layers and breeders: 15gm per 100 birds daily

PRESENTATION:-
1 Kg., 5 Kg., 10 Kg. & 25 Kg.

WHY CHOOSE REFIT PRODUCTS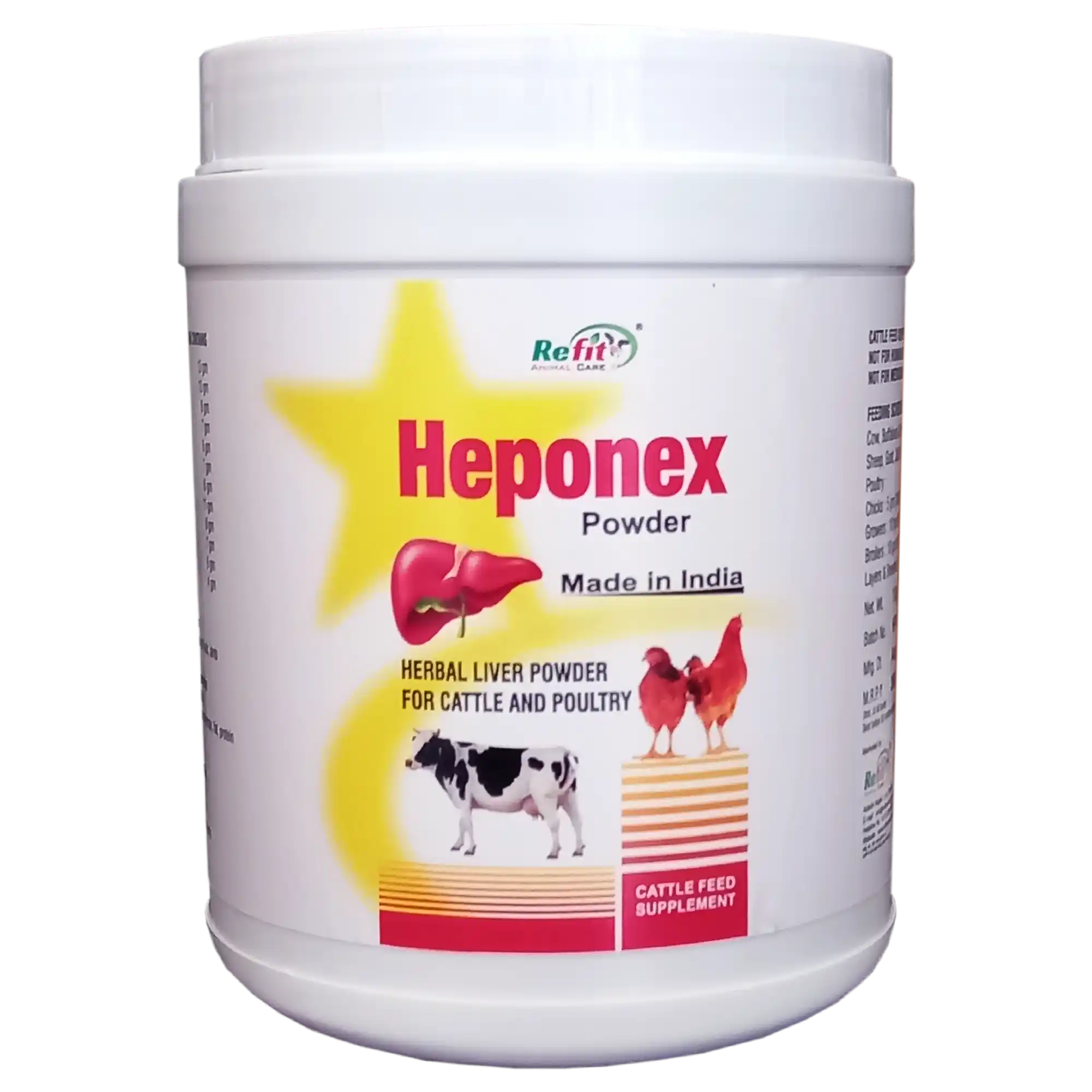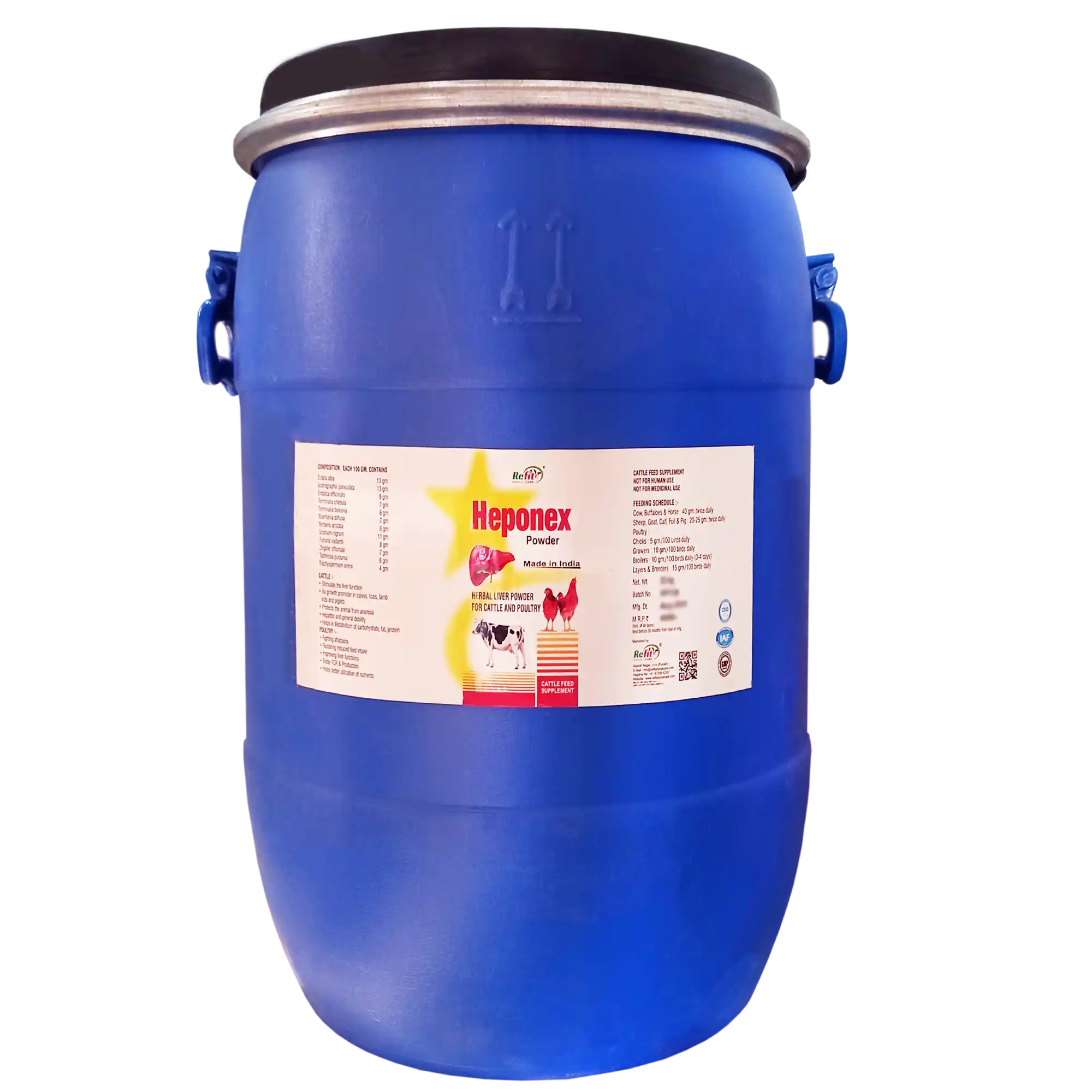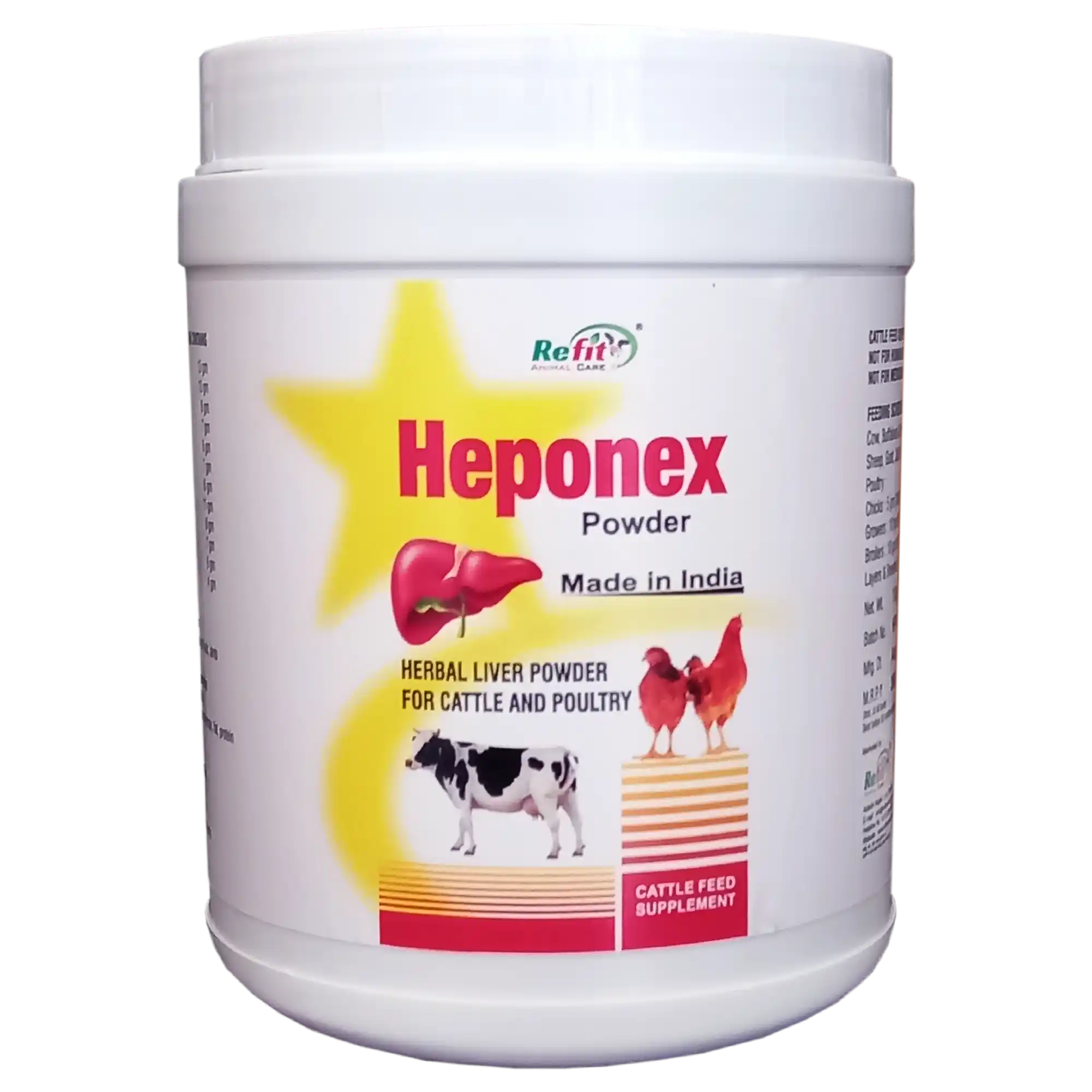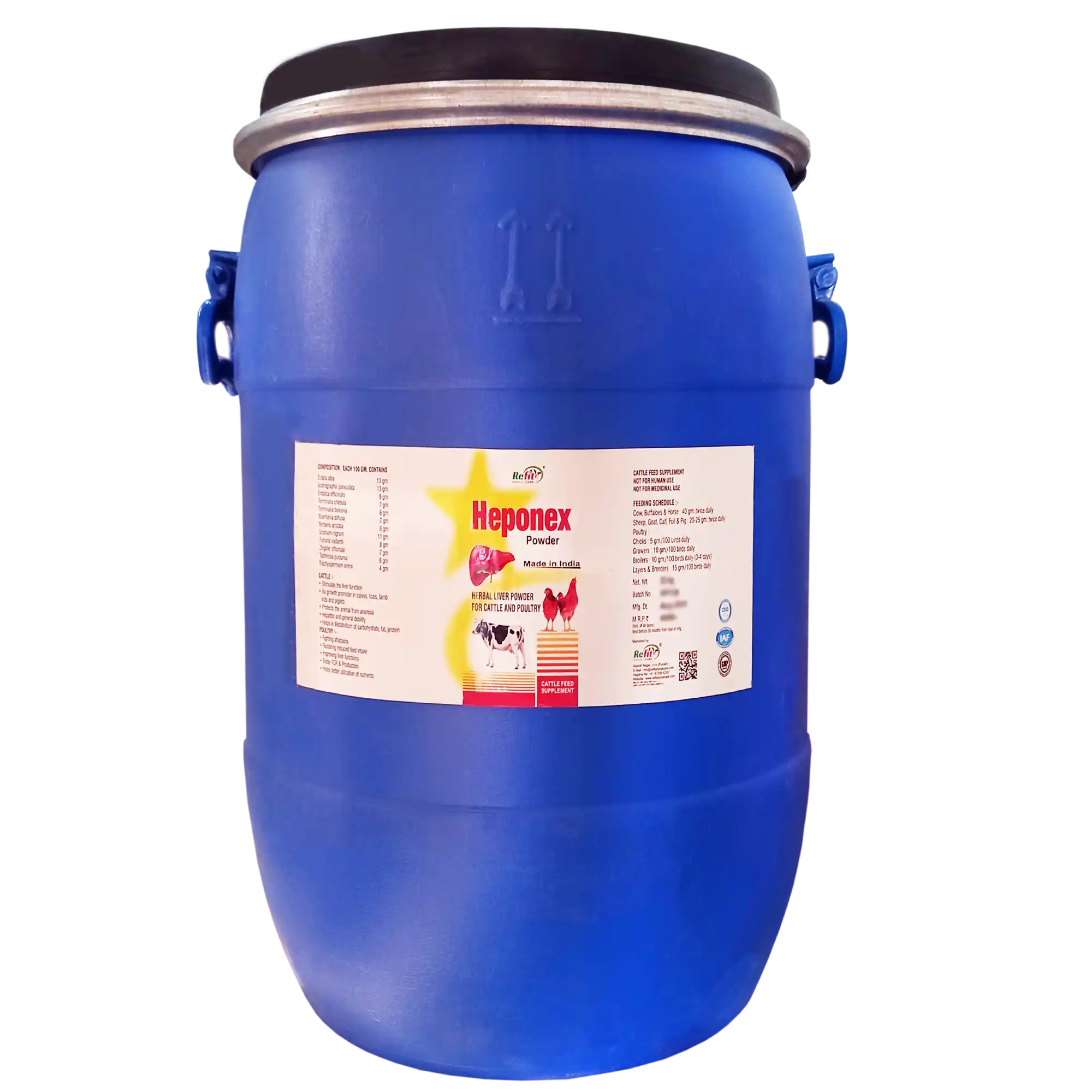 composition : each 100 gm. contains :
| | | |
| --- | --- | --- |
| • | Eclipta Alba | 13 gm |
| • | Andrographis paniculata | 13 gm |
| • | Emblica officinalis | 8 gm |
| • | Terminalia chebula | 7 gm |
| • | Terminalia belesiva | 8 gm |
| • | Boehavia diffusa | 7 gm |
| • | Barberis aristata | 6 gm |
| • | Solanum Nagrum | 11 gm |
| • | Fumaria vaillantii | 8 gm |
| • | Zingiber officinale | 7 gm |
| • | Tephrosia purpurea | 8 gm |
| • | Trachyspermum ammi | 4 gm |
get this product at your own brand name
Refit Animal Care Provides Wide Range of Cattle Feed Supplements
Refit Animal Care Provides Wide Range of Poultry Feed Supplements
Refit Animal Care Provides Wide Range of Aqua Feed Supplements